There are hundreds of different kinds of pasta — you'll never be able to remember all of them! — but they're all made from the same basic ingredients: 100% durum wheat, and water. More flavours can be added on, like egg yolk, tomato paste, or even squid ink. But the basic pasta remains the same.
Here are a few of the more common shapes of pasta, as well as how they got their names.

Spaghetti is Italian for "little strings". It's actually the plural form of spaghetto, which is a dimunitive form of spago, meaning "thin string" or "twine". Spaghetti which is extra thick or long is called spaghettoni.

Macaroni is a hollow tube of pasta bent into a kind of cashewnut shape. It is one of the few ones with a non-Italian root for its name. The name macaroni is thought to come from Greek, meaning "food made from barley".

Fusilli is also a tube, but this one spirals round into a corkscrew shape. It probably comes from the Italian word fuso, meaning "spindle".

Penne is made of hollow, ridged tubes with diagonal cuts at both ends. Its name is "pens" in Italian, because the tip is similar to a quill or a fountain-pen.

Farfalle is Italian for "butterflies". It's made up of small rectangles, which are then pinched into a "bow-tie" or "butterfly" shape.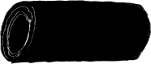 Cannelloni, or "large reeds", is pasta in a large, cylindrical shape. Other food can be stuffed inside, and usually it is cooked in an oven.

Lasagne is very wide, thin sheets of pasta. It's name means "cooking pot", because it's usually laid out in strips to form a pastry-like thing, and other stuff is put inside to cook.
These are just a few kinds of pasta. There are many more, and each type can also have its own variations. And no — you won't be able to remember all of them!
---
Have something to say? At Snipette, we encourage questions, comments, corrections and clarifications — even if they are something that can be easily Googled! Or you can simply click on the heart below, so we know you liked reading this.
This article was originally published in Sirius #186 1–14 February 2015 "How to See".